The beaches of Aruba are without a doubt among the cleanest, widest, and most beautiful in the Caribbean. Typically a beach in Aruba consists of white powder-fine, sand, perfect for soaking up the Caribbean sun. You are welcome to enjoy all of Aruba's beaches; while in some cases the hotels may own the lounge beach chairs, the ocean and the sand are public property so freely accessible for everyone!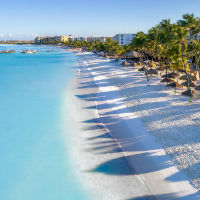 This stretch of white sand is home to the prestigious high-rise hotels. Palm Beach, adjacent to Hadicurari beach, is great for swimming, sunbathing, sailing, fishing, and snorkeling. As you walk along the shore through the lush gardens of the beachfront resorts, watch the birds and iguanas, and stop for a cold tropical drink at one of the many bars.
At Palm Beach you will find several places where you can easily rent beach chairs (about $10 a bed) and parasols.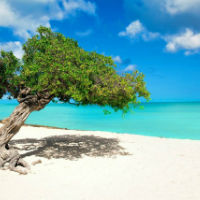 Eagle Beach is across a small road from the low-rise hotels and several timeshare resorts. The wide beach, sugar-white sand and gentle surf are ideal for swimming. The ambience is relaxed and quiet. You will find several places to rent beach chairs and a couple of bars maintained by the hotels. Shaded picnic areas are provided for the public, and the beach is popular with tourists and locals alike on weekends.
Famous Eagle Beach has been singled out as the number one Caribbean beach in a USA Today survey of travel writers, travel agents and frequent travelers. Also, in 2018 it has been featured in National Geographic's 24 Best Spots in the Caribbean!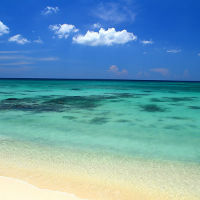 Just before the California Lighthouse, at the island's northwestern tip, you find locals favorite Arashi Beach. The calm calm surf and sandy bottom of Arashi Beach, makes it one of Aruba's best swimming sites. Arashi Beach is also ideal for snorkeling or sunbathing while watching pelicans fish.
If you are staying in "Noord" this beach is a beautiful option while getting away from the crowd. There is a (free) paved parking lot, sunbeds can be rented and in case you didn't bring your cooler, ice cold refreshments can be bought at the "Arashi Beach Shack".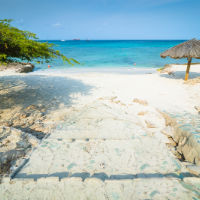 Boca Catalina is a great spot for swimming and snorkeling, with its shallow water and plentiful fish. The sand is white, with some pebbles and shells. This small pocket beach has no facilities, but it offers seclusion and tranquility, and is therefor quite popular.
Boca Catalina is also the main beach where the snorkel & sail cruises cluster around the nearby reef, to let their guests snorkel perform flying tricks on the rope swings.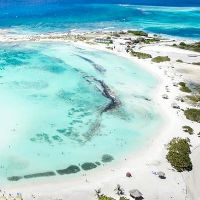 Baby Beach, near Aruba's easternmost tip, like the name suggests is a prime destination for families with young children. On Sundays this beach is a locals favorite. The powdery sand and shallow bowl of warm turquoise water is perfect for inexperienced swimmers, and snorkeling enthusiasts alike, thanks to the protection of rock break waters. Hence the name "baby" beach. We always recommend to stay inside the lagoon.
Giant sea grape bushes and palapas offer protection from the sun. At Baby Beach you will find Big Momma's Grill a Flintstone themed place that is a full service restaurant, including bar. Consider a stop at beautiful Mango Halto on your way to Baby Beach (same route).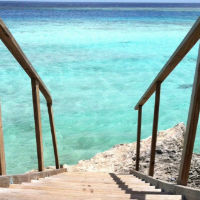 On the right side from Baby Beach, you will find another great beach called Rodger's Beach. This beach is a little more private and duriong the week is rarely crowded. The beach has recently been updated with some facilities like beach palapas and bathrooms and is like Baby Beach very popular with locals in the weekend. Fishermen anchor at the far end of this bay creating a picturesque scene.
The water is shallow water making it an excellent spot for snorkeling. Outside the large shallow lagoon caution is required due to strong currents. We always recommend to stay inside the lagoon.
Between Oranjestad and Savaneta, you can find the Mangel Halto. It is a stunning snorkel site and its white-powder sand and shallow water are additional enticements for Aruban families and tourists alike, especially on weekends.
The mangroves grow on the shoreline, creating small sandy beaches, which lead their way to the shallow waters rich in sea life. Mangel Halto is approximately a 20- 30 minutes drive (depending traffic) from the Noord area. Consider to combine a visit to Baby Beach and Mango Halto in one trip, since it is on the same route.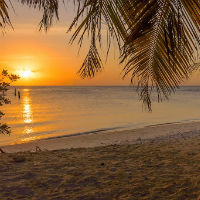 This city beach is situated alongside the famous linear park in downtown Oranjestad, and located next to the airport. This beach is also perfect for families with children since the water is shallow and calm.
Beach beds and lounge chairs are for rent from Reflexions, and kids can enjoy themselves on a floating water park. This beach also is home to a dive school and a casual Surfside Beach Bar, right on the water's edge.
Surfside Beach is just a 2 minute drive from the airport and an ideal location for plane spotters.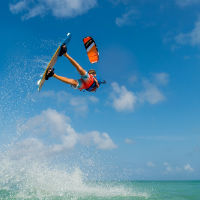 Between Palm Beach and Malmok Beach you can find "Fishermen's Huts" or Hadicurari Beach. It is Aruba's most popular spot for windsurfing and kitesurfing. Every July, this site also hosts the Hi-Winds World Challenge, an important pro-am windsurfing and kitesurfing competition that attracts lots of international competitors.
Aruba is blessed with good winds all your round. This, together with super flat waters at Fisherman's Huts makes Aruba a pristine spot to learn kitesurfing or windsurfing. There are several businesses located at Fishermen's Huts where you can take lessons or rent equipment.
Aruba's Secluded North Coast Beaches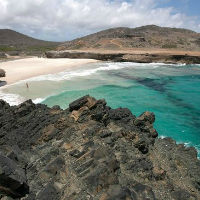 Dive into a world of pure nature, pristine white sand dunes and a magnificent ocean at the secluded beaches like Boca Prins. At the more rugged part of the island on the northern coast you will find several beautiful and more private beaches.
Boca Grandi, Boca Prins, Boca Kero, Daimari, Andicuri and Wariruri are just a few of the beaches which can be found here. With crashing waves and a rugged coasts, sometimes these waters are used by (very experienced) body boarders and surfers. When in doubt don't enter these waters to swim, just get your toes wet and stay very close to the shore. Enjoy the postcard scenery in stead.
We strongly recommend a 4×4 Jeep or similar if you would like to visit these hidden gems.