Experience an exhilarating journey by joining an open-air Jeep for an unforgettable adventure! Embrace the thrill as you embark on a rugged expedition through the untamed splendor of Aruba's breathtaking outback.
Discover the hidden gems of this captivating island from the perspective of a local guide, as they lead you on an off-road tour, revealing the most remarkable sightseeing destinations. Brace yourself for an action-packed escapade, immersing yourself in the raw essence of Aruba's wilderness.
De Palm Tours
Island Style open air Jeeps
Natural Pool Off-Road Safari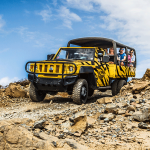 Our tours are led by knowledgeable and experienced guides who will provide you with insights and information about Aruba's history, culture, and natural wonders. They are also dedicated to ensuring your safety and comfort throughout the tour.
Are you ready for a thrilling ride that will take you to one of Aruba's most awe-inspiring natural wonders? Look no further than our open-air vehicle tours, where we take you on a journey through the rugged Aruban outback to witness the breathtaking Natural Pool, the Baby Natural Bridge, and the iconic California Lighthouse.
Baby Beach Off-Road Safari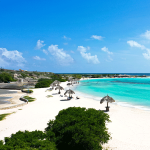 Embark on an exhilarating jeep tour with a knowledgeable local guide and immerse yourself in the unparalleled natural splendor of Aruba. Our open-air vehicles will transport you to unexplored realms, venturing beyond the ordinary routes to unveil concealed gems scattered across the untamed northern coastline and the breathtaking expanse of Baby Beach. Prepare for an unforgettable encounter with Aruba's pristine beauty like no other.
Caves and Baby Beach Off-Road Safari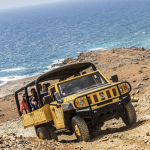 An off-road adventure to the captivating caves, combined with an exciting snorkeling experience at Baby Beach! Elevate your family's enjoyment to new heights by joining us on our open-air vehicles for an extraordinary exploration.
Delight in the enchanting wonders of nature as you and your loved ones immerse yourselves in the vibrant flora and fauna of the island. Along the journey to Aruba's renowned landmarks, your children will be thrilled to encounter the mesmerizing wildlife that calls this island home. Prepare for an unforgettable experience filled with joy, discovery, and cherished memories.
North Coast Off-Road and Snorkeling Safari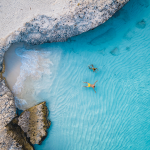 Explore Aruba's North Coast in an exciting off-road and snorkel tour!
Our first stop is the remarkable Casibari Rock Formations, situated at the heart of the island. These ancient boulders, sculpted by wind and water over countless years, stand as a testament to nature's awe-inspiring artistry. Climb to the pinnacle for awe-inspiring panoramic views of the surrounding landscape that will leave you breathless.
Next, we'll venture to the Natural Bridge, another magnificent natural marvel that was once a beloved attraction in Aruba until its collapse in 2005. Despite its altered state, it remains a stunning sight to behold, and your guide will enlighten you with captivating tales about its history and geology.
Prepare for an unforgettable journey filled with thrilling adventures and remarkable sights that will create cherished memories of Aruba's natural wonders and rich heritage.
Pelican Adventures
Closed Jeeps with Air-Conditioning
Wet & Wild Jeep Safari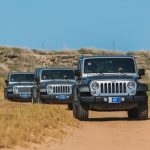 Explore the entire Caribbean island by land and by sea. Enjoy an exciting full island Jeep safari visiting the island's must-see highlights. Afterwards, head to the Palm Beach to relax and have lunch at Pelican Nest Seafood Grill.
Continue this adventure by embarking on one of our beautifully appointed catamarans for a laid-back afternoon of sailing and snorkeling. Only 4 passengers per jeep.
Half Day Jeep Tour
Explore the entire Caribbean island and take in the natural landmarks and must-see highlights best accessed by 4×4 in the company of a professional guide.
Get behind the wheel of a Jeep Wrangler or let your guide steer the way as you visit Highlights including the Natural Bridge, Arikok National Park, Baby Beach, and a freshly grilled lunch at Pelican Nest Seafood Grill. Only 4 passengers per jeep.
Looking for More Fun Activities?
Other Popular Tours & Excursions
Book Online!
BnButlers.. Aruba's #1 Booking Platform for Tours & Excursions