Aruba is beach, water and fun, it's that simple! No need to look any further, because you just found the largest and best selection of watersport activities in Aruba.
You will be welcomed with a smile at Delphi Watersports, located on the beach in front of the Hyatt Regency Hotel. Thousands of clients from all over the world have already experienced the personalized service and diversity in watersports activities. Browse our watersport activities below and book your fun!
Delphi Watersports
Peace on the water
Kayak Rental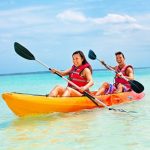 Perfect for you and your loved ones! While you're gliding through the beautiful Caribbean Sea in your double clearbottom kayak you will see the marine life below through the crystal clear glass bottom! We also have single kayaks and regular double kayaks available!
Truly a safe and great way to spend some time at sea, and definitely a must for young and old!
Parasailing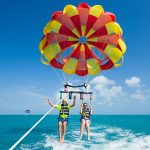 Feel like an eagle experiencing the thrill of floating above the sound while parasailing high above the ocean! During this 10 – 12 minutes flight we'll take you up safely to heights between 400 and 600 ft, where you will have an unforgettable panoramic view over Aruba!
We offer parasailing for one person, or two persons together (tandem). Participants are winched on and off the boat hydraulically for safe takeoffs and landings. All takeoffs and landings are done from the back of the boat. Anyone can fly; including the young, old, and physically challenged! We do dry take-off and landings, however you may get dipped and get your feet wet by your request only. Parasailing is fun and safe!
Stand Up Paddle Board Rental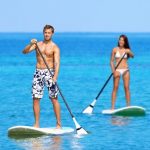 Explore the beautiful ocean waters with your Stand Up Paddle Board (SUP) rental. This is a great opportunity to introduce yourself to the fun of stand up paddle boarding. Supping is a perfect addition to a peaceful day on the water.
Our paddleboards are safe, stable, and easy to use. They are ideal for beginners and seasoned paddlers.
Banana Boat Ride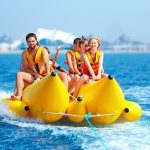 Let's go bananas! This thrilling ride accommodates groups up to twelve persons. Comfortably seated on a twin-banana, you will experience the excitement of bouncing on the waves behind one of our fast motorboats. Duration per ride is approximately 25 minutes…get ready for the action!
Besides lots of fun, banana boat riding is also a great sightseeing water tour!
Tube Ride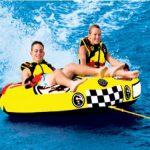 A watersport classic that never gets old. One of the most popular and exciting water sports activities with a duration of 20 minutes. Bounce on the waves behind a speedboat and get thrilled by the action!
We offer of a large selection of different models, such as single, twin, triple, kneeling, laying, sitting or our four person bandwagon!
Waverunner Rentals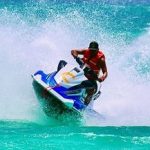 Who doesn't love the thrill of riding the waves. This sporty, personal watercraft offers thrilling enjoyment for one or two riders. Feel like taming a wild bull, bouncing over the ocean's surface by hyper-flow jet propulsion driving your 1100 cc waverunner, and enjoying a real adrenaline rush!
This 30 minutes thrilling ride is extremely popular by all ages. So get out there and feel the wind in your hair while you're jumping the ocean.
Flyboard, Jetovator, Freedom Flyer & Jetpack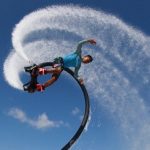 A Flyboard rider stands on a board connected by a long hose to a watercraft. Do you have what it takes and are you ready for an adventure activity of a lifetime. You are welcome to b
ring your family or friends free of charge, so they can watch you and make pictures while relaxing on our pontoon boat the "Frequent Flyer".
Our skilled instructors will take good care of you and make sure it will become an experience of a lifetime!, and some awesome pics to show off at home!
Water Skiing, Wake Boarding & Knee Boarding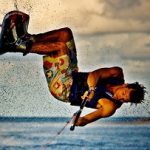 Our skilled instructors will take good care of you and Speed through the water behind a fast motorboat? Join us and have lots of fun in the water!
Waterskiing
Get pulled behind a fast boat on waterski's, skimming the surface!
Wake Boarding
Get thrilled on a different way to ride over water; on a buoyant wakeboard while being pulled behind our fast motorboat!
Kneeboarding
Get towed on a buoyant, convex, and hydrodynamically shaped kneeboard at a planing speed behind our motorboat! Sit on your heels on the board, secured to the deck with an adjustable strap over your thighs!
Looking for more fun in the sun?
Discover All Popular Aruba Tours
Book Online!
BnButlers.. Aruba's #1 Tour Booking Site