Seabobs are underwater scooters that you can use to propel you both above and below the water, and, let us tell you, they can lead to the adventures of a lifetime. Our Seabobs can reach speeds of 15 mph above water and 10 mph under water. Because of Seabob's versatile functionality and ability to traverse waters at any depth, you have the freedom to do these excursions your way.
All of our Seabob Tours include hotel pickup and drop off as well as complimentary changing rooms, showers, and restrooms. With the rental of one of our underwater scooters, we'll provide a snorkel, mask, wetsuit, and, of course, a Seabob F5 and F5S Jet.
Seabob Tours
Greet a turtle at the North Shore if you're lucky!
Antilla Shipwreck Tour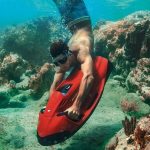 The Antilla shipwreck is one of the most beloved underwater exploration sites available around Aruba. The SS Antilla was a German cargo ship created to facilitate trade between Germany and the Caribbean on the Hamburg America Line. After Dutch marines took the crew into custody, the Dutch marines fired two rounds of heavy artillery at the ship and sank it. Now the Antilla is an amazing dive site, and the third-largest shipwreck in all of the Caribbean, with a small part of its starboard side exposed above water.
Noord Coast Reef Tour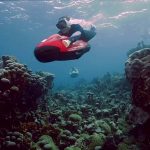 On the northwest coast of One Happy Island is Arashi Beach with it's abundant marine life and beautiful landscapes that await you when you explore underwater on a Seabob tour. Touring explorers will enjoy elkhorn corals, brain corals, sponges, starfish, eels, puffer fish, bait fish, tiny squids, and even the occasional sea turtle.
Alternatively, your underwater adventure can begin from Boca Catalina, which is just a few steps south of Arashi Beach. People often report that they felt like they were swimming in a tropical fish bowl, surrounded by a truly astounding variety of colorful aquatic species, including French Angelfish, Wrasse, Damselfish, several kinds of Parrotfish, Butterfly Fish and even a Green Moray, to name just a few.
Discover the beauty of Spanish Lagoon
Spanish Lagoon Tour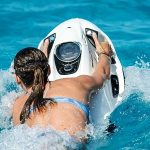 One of the least-visited spots for snorkeling is the southwest coast's secretive Spanish Lagoon, which also makes it one of the very best spots for a Seabob tour. The unique feature of the lagoon is how much of it is lined with mangroves and their root systems that extend into the water. As it turns out, this makes for the perfect fish nursery, and snorkelers love being surrounded by clouds of "fry" or baby fish. Knowing that new generations of fish are being spawned here indicates it is a very healthy marine ecosystem. Plentiful coral makes for plentiful fish, including Parrotfish, Wrasse, Yellowtail, Tang, Butterfly Fish and many others.
Looking for More Fun Activities?
Other Popular Tours & Excursions
Book Online!
BnButlers.. Aruba's #1 Booking Platform for Tours & Excursions