Get your sea legs ready to set sail and experience Aruba's breathtaking coastal beauty from the water on a spectacular catamaran cruise that can includes snorking breaks and open bars, brunches or dinners, and stunning sunset views. Join the friendly and highly skilled boating crew as you cast off from the island with your loved ones, enjoy the comfort of the catamaran, you will feel like home, on the water!
60 ft catamaran
Pelican
Available Daytime Tours
Sailing & Snorkeling Cruise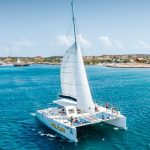 Enjoy the crystal clear waters, balmy tropical breezes, Caribbean cocktails, an open bar, snacks, music, National Geographic snorkeling equipment and shaded areas. This cruise stops at the popular snorkeling destination, the Antilla Wreck, home to variety of tropical fish and colorful coral. You'll also enjoy a snorkel stop at Catalina Bay, a wonderful site for shallow snorkeling with plenty of fishes to keep you occupied.
Champagne Brunch & Aqua Safari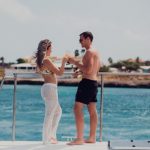 Blend in with nature and leave your worries behind with mimosas on a custom – built catamaran, equipped with sunbathing trampolines & shaded areas. Refresh and explore, while enjoying food and drinks on the rhythms of Caribbean music! Meet the pretty fishes while snorkeling at three different stops. Discover the famous Catalina Bay, the Caribbean's largest underwater wreck, the Antilla, a 400 foot long German freighter sunk during WWII, and the wonderful shallow Malmok Reef. Also experience some beautiful face to face marine life with the exhilaration of the 3rd lung under water exploration!
65 ft catamaran
Pelican
Available Sunset Tours
Sunset Cruise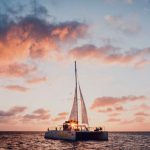 Sail along Aruba's gorgeous beaches and shoreline, enjoy the spectacular sunset and have fun while gliding over the crystal clear Aruban waters.
This dream combination of a sunset cruise with a seaside 3-course dinner at our restaurant right on the water will be one of your most memorable evenings in Aruba. The Pelican Nest Seafood Grill is located at the end of the Pelican Pier. It offers the freshest Caribbean seafood, open-air dining with a spectacular ocean view and stunning sunsets in a casual ambiance.
Havana Sunset Cruise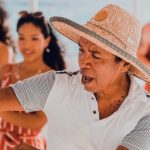 Sail along Aruba's gorgeous beaches and shoreline, enjoy the spectacular sunset and have fun while being entertained by a professional Salsa Instructor. Our crew will work tirelessly throughout the evening to make sure you enjoy our open bar featuring Mojitos and Cuban snacks while dancing to Latin music. This is a fun Latin twist on our regular sunset cruise, where you can even learn how to dance Salsa!
45 ft catamaran
Dolphin
Morning, Afternoon and Sunset Tours
Snorkeling Cruise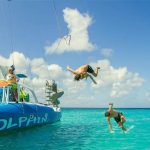 Join us for an exciting snorkeling cruise sail (2 snorkeling stops) and we will make sure it will be the highlight of your vacation! So come along and book a trip on our 45 ft. Catamaran "DOLPHIN" with it's spacious decks, trampolines for sunbathing and a large roof for shade with it's own bar serving free cocktails!
Sunset Cruise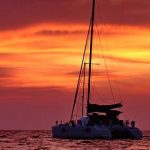 Sail with us into a breathtaking sunset. Our professional staff will give you the ultimate service to ensure you'll have the time of your life. Enjoy our open bar and take in the mesmerizing Aruban sunset views while on the water.
Looking for more fun in the sun?
Discover All Popular Aruba Tours
Book Online!
BnButlers.. Aruba's #1 Tour Booking Site