Experience the thrill of conquering Aruba's rugged terrain in your very own UTV vehicle! Immerse yourself in the untamed splendor of Aruba's outback as you forge a path through its wild landscapes. Discover the island's hidden treasures on an exhilarating off-road tour, led by knowledgeable locals who will show you the best sightseeing spots.
Book your unforgettable adventure online now and prepare to embark on an extraordinary journey through Aruba's captivating wilderness! Ready for your UTV Adventure?
De Palm Tours
Available Daytime Tours
Andicuri UTV Off-Road Adventure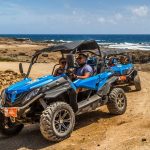 Brace yourself for an exhilarating Aruba UTV Adventure and unlock the mesmerizing secrets of the island's untamed landscapes. Let experienced guides lead you to the enchanting Black Stone Beach, a hidden gem waiting to be discovered.
Get ready for a heart-pumping UTV ride like no other! Prepare to be transported to the untamed beauty of Aruba with our thrilling Andicuri UTV Off-Road Adventure. Feel the rush as you rev up your engine and join us on an unforgettable journey along the breathtaking Andicuri Trail. Brace yourself for an exploration filled with excitement as we unveil the hidden treasures of Black Stone Beach and Baby Natural Bridge. Prepare to be amazed as you stand in awe, soaking in the majestic and captivating beauty of these remarkable landmarks. This is an experience you won't want to miss!
Full Day UTV Off-Road Adventure & Flamingo Encounter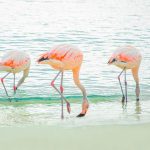 Get ready for an action-packed UTV Off-Road Adventure that will send your adrenaline soaring in the stunning landscapes of Aruba and encounter real flamingos! Explore the captivating desert terrain as you uncover the island's must-visit destinations. Brace yourself for an epic finale at De Palm Island, where you can dive into the vibrant coral reef for an unforgettable snorkeling experience. Encounter graceful flamingos and capture picture-perfect moments, indulge in a delectable lunch from our extensive buffet, and so much more! Prepare for an exhilarating journey that combines adventure, natural beauty, and incredible moments you'll cherish forever.
UTV & Jeep Natural Pool Combo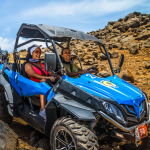 Embark on an extraordinary adventure to discover the island's hidden gem, the Natural Pool, in the most thrilling way possible! Brace yourself for a unique and adrenaline-packed tour that combines the excitement of driving a UTV with the off-roading thrill of our powerful jeeps.
Get ready to embrace the wild beauty of Aruba's outback as you blaze a trail through rugged terrains, immersing yourself in the untamed splendor of the island. Switch up your experience and prepare to get down and dirty as you embark on this exhilarating journey like no other.
Looking for More Fun Activities?
Other Popular Tours & Excursions
Book Online!
BnButlers.. Aruba's #1 Booking Platform for Tours & Excursions