Put on your explorer shoes! A half or full day of sightseeing can easily be filled with a visit to Aruba's Cultural Landmarks such as picturesque churches, natural wonders, historic ruins and other iconic landmarks. Most of the following outdoor landmarks are either free or very cheap to visit and well worth doing so! Outdoor activities are best enjoyed either in the (early) morning and in the afternoon and remember to use plenty of sun lotion…  and stay hydrated!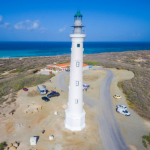 One of Aruba's premier landmarks, the California Lighthouse is a perfect location for a scenic view over Aruba's coastline! Located near Arashi Beach on the northwest tip of Aruba, the name "California" came from a vessel of the West India Company and Pacific Steamship Co. called "California" that shipwrecked in the area in 1891. Therefore they came up with the idea of building a lighthouse that could indicate the island's eastern tip to ships with its light.
In 2015 Stichting Monumentenfonds started the restoration of the California Lighthouse. The project finished in September 2016 and the Lighthouse is now open for visitors to enjoy amazing views from the top.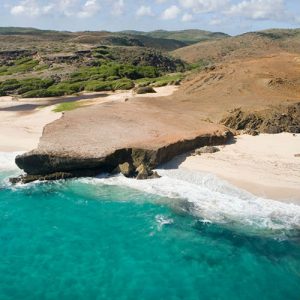 This beautiful National Park in Aruba comprises almost 20% of the island. Enjoy gorgeous vistas of Aruba's rugged terrain, desert-like hills filled with tall cacti, a breathtaking coastline and protected local flora and fauna.
The National Park takes you on a memorable journey of the islands past offering unique geological, cultural and historical sites. These can all be enjoyed and explored either on your own or during guided tours.
Entrance Fee: $11,- per person.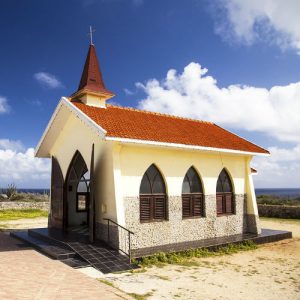 Alto Vista Chapel is a small Catholic chapel also known as "Pilgrims Church" that stands on the hills above the north shore of the sea and to the northeast of the town of Noord, on the island of Aruba, 27 km north of the coast of Venezuela.
The church, painted on the outside in stark bright yellow, makes it a conspicuous religious monument for people to visit. The present Chapel of Alto Vista was completed in 1952 and stands in the same location as the original chapel, which was built by Domingo Silvestre, the Venezuelan missionary from Santa Ana de Coro, Venezuela, in 1750. The Alto Vista Chapel was stated to be the location where conversion of Aruban Indians to Christianity started.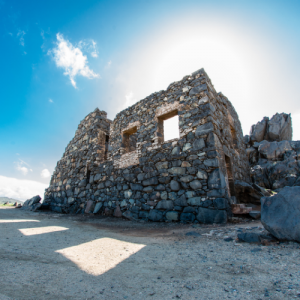 The Aruba Island Gold Mining Company built the Bushiribana smelter in 1825 to extract gold from the ore that was being mined in the nearby hills of Ceru Plat; it operated for ten years. Today, its remains are a stopping-off point for tourists on their way to view the Aruba Natural Bridge, which collapsed on September 2, 2005
In 1824 gold was discovered on the island and later the Bushiribana smelter was built by the Aruba Island Gold Mining Company for gold that was mined nearby at Seroe Plat. In 1899 there was another gold smelter built by the Aruba Gold Concessions at the southern end of the island at Frenchman's Pass named Balashi Gold Mill.
Ayo & Casibari Rock Formations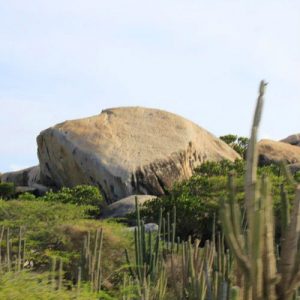 Some say it's a pile of rocks; others say it's an incredible natural wonder. This fascinating geological formation is a popular spot for rock-climbers and explorers (who are abetted by human-made pathways between the rocks). The ancient Arawak petroglyphs on-site have led scholars to believe that this was a sacred place for the island's earliest inhabitants.
The Rock Formations are monolithic rock boulders. It's not a huge formation nor is it a tough climb. Once at the top, it will be very windy and you'll be able to see all over Aruba.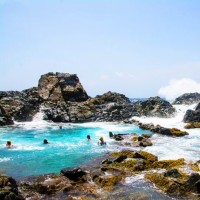 The natural pool is one of the most popular places to visit while in Aruba, and this pool definitely won't compare to your standard resort's pool. Be sure to pack your swimsuits, because once you are there, you probably want to experience the refreshing water of Aruba's natural pool.
Part of Arikok National Park, this pool is encircled by volcanic rock. If you choose to drive you must have a 4 x 4 vehicle that is suitable for off-roading (like a Jeep Wrangler). Otherwise, it's about a three-mile hike (we recommend mornings or late afternoon for hiking). Be sure to follow all safety rules while visiting the natural pool.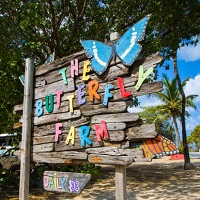 A visit to the charming Butterfly Farm is a guaranteed hit for all ages. A memorable encounter with nature in all its beauty and diversity. Walk into a lush tropical garden full with butterflies, on of mother nature world's most colorful creatures. Observe the life cycle of these beloved creatures from egg to caterpillar to chrysalis to butterfly.
The butterfly farm is a rare opportunity for photography and a sure delight for visitors of all ages. Arrive early in the day and witness new butterflies emerging from their chrysalis and taking their first flight!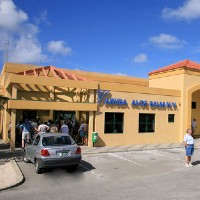 Aloe vera is a popular medicinal plant that people have used for thousands of years, and a famous export product of Aruba. It is best known for treating skin injuries, but it also has several other uses that could potentially benefit your health. Pay a visit to the Aruba Aloe Museum, Factory, and Store on-site in Hato, Aruba, about 5 minutes away from the low and high-rise hotel area. The complimentary Museum and Factory tour is led by a team of local Aruba Aloe tour guides.
Founded in 1890, by Cornelis Eman, Aruba Aloe Balm N.V. is probably the oldest Aloe Company in the world and one of the first companies to formulate and manufacture aloe-based Skin, Hair & Sun Care products and growing the Aloes at the cosmetic production plant.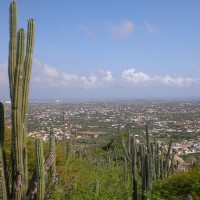 If you're looking for some exercise and an unmatched view of the island, try climbing the stairs of "Hooiberg". It's over 600 steps to the top, and believe me: it a great workout:-) Go early in the morning or before an hour before sunset and don't forget to bring some water and a camera!
Hooiberg is a 165 meter / 541 feet high volcanic formation almost in the center of the island and can be seen from virtually anywhere from the island. The Dutch word "hooiberg", literally translates into haystack (mount haystack) in English, as the landform is said to resemble a stack of hay. Make it to the top and spectacular views over the island of Aruba.