Very suitable for those looking for a more intimate and sophisticated experience with their loved ones..
We offer semi-private cruises with a maximum occupancy of only 24 persons per cruise aboard the elegant Monforte III, a luxury vessel built in a coastal town of Brazil. The 115-foot wooden schooner, built by Brazilian Artisans. is an ideal fit for our luxury cruises in an more private setting.
We also offer 100% private cruises on motor, catamarans or sailing yachts.
Monforte Luxury Cruises
Daytime Cruises (max 24 pp)
Luxury Lagoon Cruise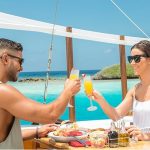 The Luxury Lagoon Cruise is a semi private cruise and provides you with the opportunity to cruise along Aruba's Southern Coast aboard our beautiful Teak Schooner.
While cruising, join us by the premium bar for a cool drink or lay down at one of the lounge areas to unwind and enjoy the views.. Some may also enjoy sun-bathing on the deck while sipping Mimosas and/or making a splash while rope-swinging. After a refreshing swim or adventurous guided snorkel or kayak exploration, enchant your taste buds as our on-board chef prepares a delightful lunch grilled on sight accompanied by some cool Caribbean music and refreshing hand-crafted cocktails. As we sail back, hang loose & delight in the scenic beauty Aruba grants to us all.
Sunset Cruises (max 24 pp)
Exclusive Dinner Cruise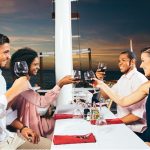 Semi private exclusive dinner cruise, max 24 pp per trip. Monforte III offers patrons with an elegant culinary journey through a rustic 4-course dinner while resting on the crystal clear waters of the Caribbean Sea.
Join us at the bar for handcrafted cocktails as we set course to explore the rigged west coast and experience the transition from sundown to the evening stars. This is where the magic happens. Our crew will work tirelessly to make sure every moment exceeds every expectations and the sizzling sounds of our Executive chef behind the grill transcends into the perfect celebration of your taste-buds.
Private Charters
50-foot sailing yacht
Private Sailing Trips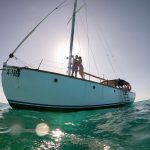 Your "private" adventure on our 50ft. Historical Marconi Cutter "Chubasco" from Maryland, USA, Est. 1935.
From private snorkeling in the morning or afternoon to see beautiful colored fish, sea turtles, our "Antilla" WWII Shipwreck to a beautiful sunset cruise in the evening or even a awesome combination of 4 hours of snorkeling & cruising with our 4 hour Snorkel & Sunset cruise!.
We also offer private Scuba Diving on our 23ft. "Sea-Esta" with Mike our scuba instructor who has done over 7500 dives around Aruba!
Book directly online!.
Looking for more fun in the sun?
Discover All Popular Aruba Tours
Book Online!
BnButlers.. Aruba's #1 Tour Booking Site