Experience something you'll never forget and learn the incredible history of Aruba in a new and exciting way – on a Segway X2 all-terrain eco-friendly vehicle! Imagine yourself gliding along the beautiful and captivating beaches of gorgeous Aruba and  marvel at the contrasting beautiful calm blue waters with the wild and rugged Aruban North Point coastline. Here you'll truly go off-road and get a chance to experience what the all-terrain Segway X2 can really do.
Our Tour Segways are eco-friendly and very easy to drive vehicles. From as young as 10 years old to 85 year old, our instructors have taught all.. they are that simple to drive! But don't worry, if you've never driven a Segway, an experienced instructor will be with you the entire time to ensure your safety and comfort for the duration of the tour.
Segway Aruba
Available Daytime Tours
California Lighthouse Tour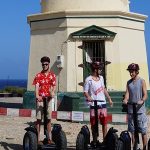 Explore Aruba's famous California Lighthouse with 120-minutes guided tour and discover about the local history and culture of the Caribbean island. The California lighthouse was christened after the S.S. California, a US steamship that wrecked on the coast of Aruba, before its construction in 1914. California lighthouse has Hudishibana or sand dunes around it which makes it quite difficult to walk. This beautiful lighthouse was restored in 2011 and since then lived up to its image as symbol of hope. Segway Aruba offers you a way to have fabulous memories of Aruba Island that you can keep with you for your whole life.
*Segway Tours office is located next to Coco Dushi on the map
Malmok Sightseeing Tour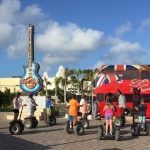 Enjoy an amazing guided 60-minutes tour of stunning Malmok Island along the breathtaking narrow sandy stretch that interrupts the limestone and rocky terrace and where catamarans and sailboats stop for a daytime snorkeling stop just off the shoreline. One of the best beaches in Aruba, Malmok beach became more famous than ever after German ship SS Antilla sank about 675 meters off the coast in World War II. Becoming best diving spot in the world, Malmok beach with is calm water is a must visiting spot in Aruba. Segway Tours Aruba provide you a way of enjoying this beauteous beach without getting tired and staying picture perfect whole day.
*Segway Tours office is located next to Coco Dushi on the map
Private Tour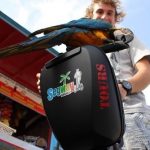 Discover untouched paradise of Aruba by riding on our all-terrain Segway X2 SE, on a 150 minute private tour. Island of Aruba is a place of spectacular white sand beaches, magnificent lighthouses, Quadiriki caves and many interesting places. An island country in Caribbean Sea, Aruba is famous for its beaches, idealistic weather, delicious local food and exciting adventurous sports. Take advantage of selecting the area and exploring it with a professional tour guide.
*Segway Tours office is located next to Coco Dushi on the map
Segway & Seabob Combo Tour
This thrilling four-hour tour includes everything you need for an unforgettable experience Begin your combo tour over the rugged landscapes of One Happy Island with an all-terrain Segway, exploring sites in and around Malmok and Arashi Beaches. Then you'll get changed and transition to the underwater part of your tour, immersing yourself in a colorful array of ocean landscapes and diverse forms of marine life. As you make your way to the mysterious Antilla shipwreck you'll encounter all manner of tropical fish, and maybe even meet up with a sea turtle or two.
*Segway Tours office is located next to Coco Dushi on the map
Looking for more fun in the sun?
Discover All Popular Aruba Tours
Book Online!
BnButlers.. Aruba's #1 Tour Booking Site