A bus tour is a great way to discover the island of Aruba and it's natural and cultural beauty. The high seating of a bus will also give you a great view of Aruba while driving. Discover Aruba's culture, by visiting historical and natural places.
Whether you prefer a fully air conditioned sight seeing bus tour with WIFI on board, or a more local and "island style" open air bus, any bus tour is a comfortable and a fun way to explore the island of Aruba. Bus tours are suitable for most ages.
Fofoti Tours
Bus with air-conditioning and WIFI
Best of Aruba Island Tour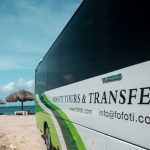 This tour is suitable for all ages and lasts approx. 4,5 hours. Explore Aruba coast to coast on a comfortable air-conditioned bus and visit many of its greatest cultural landmarks. View the island's unusual desert landscape and stunning rock formations, charming Cunucu houses and other amazing natural wonders, such as the Natural Bridge Ruins. The fun and knowledgeable guides explain Aruba's fascinating history. Snacks, refreshments, and round-trip transportation from your hotel are included.
Pelican Adventures
island style open air bus
Beach and Cave Tour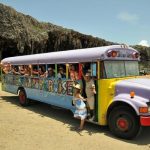 This tour is suitable for anyone over 4 years old, and lasts Approx. 6.5 hours. Discover Aruba's mysterious caves, spectacular beaches and historic landmarks together with our friendly Aruban guide who will share interesting facts and folktales, as well as little known information regarding our island. This tour's stops at Aruba's most significant landmarks and beyond: Arashi Beach, California Sand Dunes, California Light House, Tierra del Sol Country Club and Golf Course featuring fantastic vistas of the northwest coast, Alto Vista Chapel, Bushiribana Ruins, Natural Bridge, Ayo Rock Formations, Guadirikiri Caves and ends on Baby Beach where you can swim.
Looking for more fun in the sun?
Discover All Popular Aruba Tours
Book Online!
BnButlers.. Aruba's #1 Tour Booking Site